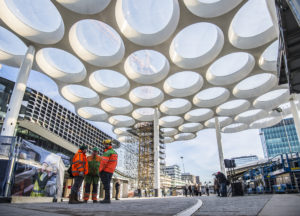 Software die werkt met de eindige-elementenmethode wordt steeds vaker toegepast bij het ontwerpen van staalverbindingen. De grafische programmatuur biedt met kleuren mooi inzicht in het krachtenverloop. En de software biedt de mogelijkheid om complexe verbindingen in te voeren. Maar er kleven ook nadelen aan. Het is van groot belang om bij het modelleren de juiste gegevens in te voeren. Anders is de uitvoer ook onzuiver. En het is lastig om die complexe verbindingen te toetsen aan de regelgeving. De geldende norm NEN-EN 1993-1-8 biedt voldoende mogelijkheden voor relatief eenvoudige verbindingen, maar de toetsing van complexe verbindingen is lastig.
Technische commissie 10 'Verbindingen' organiseert in de middag op de Staalbouwdag een kennissessie over de toepassing en verificatie van de eindige-elementenmethode toegepast op het ontwerpen van staalverbindingen. Internationale gast is František Wald, hoogleraar Staalconstructies aan de Tsjechische Technische Universiteit in Praag. En de man achter de theoretische onderbouwing van de CBFEM-berekeningen, die ten grondslag liggen aan het computerprogramma Idea Statica. Omdat de heer Wald het Nederlands niet machtig is, zal de gehele kennissessie Engelstalig zijn. De kennissessie is van 15.00 tot 16.15 u. in het grote auditorium 'Plenair #1'.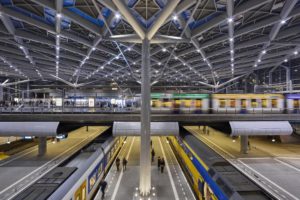 Technical committee 10 'Connections' organizes in the afternoon on the Steel Construction Day a knowledge session on the 'Application and verification of CBFEM calculations for steel connection design'. International guest is František Wald, professor of Steel Structures at the Czech Technical University in Prague. Because Mr. Wald does not speak Dutch, the entire knowledge session will be in English. The knowledge session is from 15.00 to 16.15 h. in the large auditorium 'Plenair #1'.
Where and when
Nationale Staalbouwdag, conference room plenair #1
Tuesday 8 October 2019 from 15.00 to 16.15
Free entrance
Program
15.00 Preparation and walk in
15.15 Introduction by moderator Frans Bijlaard (emeritus professor Steel structures at Technical University Delft)
15.20 Lecture by František Wald (professor Steel and timber structures at Czech Technical University Prague)
15.50 Moderated discussion with audience with František Wald and Frans Bijlaard
16.15 End of session
Content
Overview of design models for connection design
CBFEM approach and principles
CBFEM in relation to Eurocodes
Validation and verification of CBFEM calculations
Constructeursregister
Attendance of this kennissessie delivers 1 Knowledge point for the Constructeursregister.
More information
Questions? Contact Mic Barendsz or Frank Maatje at Bouwen met Staal: 088 353 12 12.